by Jen Johnston, CHHC, senior marketing services account manager, for the Step into Natural blog series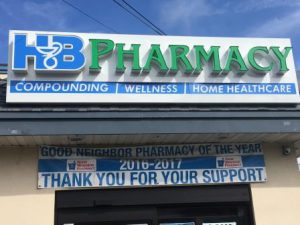 In the heart of North Arlington, NJ, positioned snuggly between the Passaic and Hackensack rivers, lies HB Pharmacy, a bustling retail business that was named Good Neighbor Pharmacy of the Year in 2016.
HB Pharmacy began in 1964 under the leadership of Gaspar G. Bellitti, a man who like so many independent pharmacists regarded customers as family and never hesitated to stay open late for a patient who had a conflict or hand deliver prescriptions to those who could not physically get to the store. When his son John Bellitti took over in 1990, he ran the pharmacy with the same tradition of service to the community.
Now the third generation of Bellitti men is involved in shaping the future of HB Pharmacy. I caught up with John's son, Vince Bellitti, director of growth and operations, to understand why HB has begun to dive deeper into the natural products space.
"HB Pharmacy is a wellness destination where people come to get healthy," said Vince.  "It's the synergistic effects of lifestyle and medication working in harmony that best helps people. Natural products and lifestyle changes are of course a big part of that picture."
Natural products take up only about 10% of their front-end space, but account for roughly 25% of their front-end dollar sales. Vince says two years ago, natural accounted for only 10% of total volume, but that percentage jumped to 25% when they consciously added more natural products to the mix. "Our front-end sales in general were quite frankly a little stagnant," Vince shared. "But adding more natural products helped us reorganize and find a niche that sets us apart from the nearby chain pharmacies. It's what has helped us to grow again."
Vince suggests that offering natural products coincides nicely with their compounding services. It reinforces their approach that every person walking through the door is unique. "Not everyone responds well to commercially available medication," Vince says, "and creating a customized approach that includes natural products, diet and exercise changes, and possible customized medication allows us to provide the highest level of care to patients."
Their core shopper tends to be a woman who is roughly 50-60 years old, while their average natural shopper is in her mid-30's. Vince explained that while many independents focus primarily on the older demographic who may be on 5-6 medications as their "bread and butter," a pharmacy needs to also focus on the future to remain profitable in the long-term.
While they have a robust home health care selection which comprises a good portion of space in the store, Vince says that adding more natural products and nutritional services provides an additional stream of revenue and allows them to begin cultivating relationships with the next generation of patients. In particular, young moms are seeing HB as a trusted resource and when they need to fill prescriptions for their children, HB Pharmacy has become their go-to. Now, they can pick up natural products at the same time.
And what are these natural products? HB carries natural supplements; essential oils and diffusers; skin care items such as cocoa butter, coconut oil, and natural scar and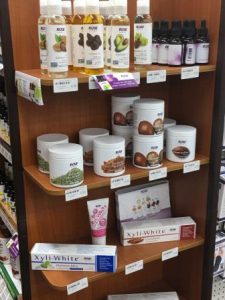 arthritis creams; and personal care products such as deodorants and toothpaste. They are also beginning to dabble a bit in food and snacks. They order their natural items a variety of ways including through their drug wholesaler or a natural wholesaler (like KEHE or UNFI), but more often they are ordering direct from the manufacturer.
In terms of merchandising, their customers tend to like natural products segregated. They have a natural endcap, and currently supplements and some other natural products are scattered throughout their relevant sections, but that will all change soon due to a reorganization they plan to do in which they will keep the natural products together as a way to further let people know they are "in the natural products business."
"That's very important," quipped Vince. "In the past, when we've ordered random natural products based on a one-time customer or doctor request, the products would just sit on the shelves collecting dust. We needed to tell people we are in the business of naturals – through advertising and by getting our staff interested and educated about natural products so that they can start conversations with patients."
Vince also explained that to him, any product is only as good as your lifestyle. In other words, no one product is going to change someone's life – nutrition and being active always come first. That's part of the reason that in addition to being the director of growth and operations for HB Pharmacy, he decided to become a health coach.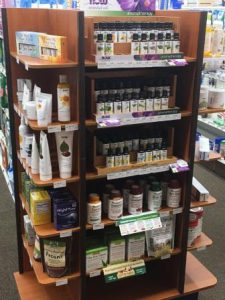 Having a health coach like Vince in the store to reinforce lifestyle changes helps sell products that serve a true purpose within that lifestyle. HB pharmacy also hosts and participates in all kinds of events in the community – bone density, cholesterol, blood pressure, and blood sugar screenings are only the beginning. They've collaborated with physicians and hosted lectures by naturopathic doctors, plus Vince partners with other coaches, yoga instructors, etc. through his coaching business, which in turn benefits HB Pharmacy.
Another way they've propelled their natural business forward is by developing their own line of supplements called Gaspar's Best® which are primarily sold within HB Pharmacy and online. Leveraging Gaspar's reputation within the North Arlington community through this line of trusted supplements has proven profitable for HB Pharmacy.
Within the past few months, HB has begun a new program where the pharmacy technician puts a flyer on a bag for a relevant drug-induced nutrient depletion. That enables the clerk to initiate a specific conversation which in turn prompts a pharmacist to enter and counsel a patient about supplements that can help.  Amazon may be their biggest competitor in natural supplements, however HB's strong relationships with patients and a high level of trust makes that part of the business thrive.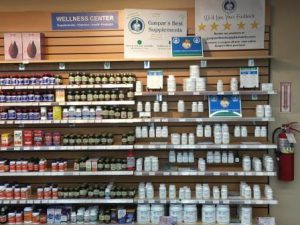 Vince's advice for other independents thinking of embracing more natural items in their pharmacy is this, "Start educating yourself and see the research. American Academy of Anti Aging Medicine (a4m) and The Institute for Functional Medicine (IFM) are good resources. You can't criticize something if you don't have all the facts."
He also says, "Ask your patients. Initiate those conversations and listen to their symptoms. You want to help them, right?  If medication alone isn't helping, it's up to you to help them find a solution. Maybe there is a natural product that could be helpful."
Ultimately, HB Pharmacy views independent pharmacies as a wellness destination, not just a place to dispense medicine. People can pick up their medications almost anywhere these days, but independent pharmacies have the opportunity to be a one-stop-shop to help people be well – and natural products can be a big catalyst for that.