Ordinary people with an extraordinary passion for retail
Clients have said it about us for years: there's something special about the people at HRG. "Collaborative, not competitive," and "professional, but approachable" are two phrases we've often heard repeated in our 35+ years serving the retail consumer healthcare industry. We enjoy working with one another, and we really enjoy puttin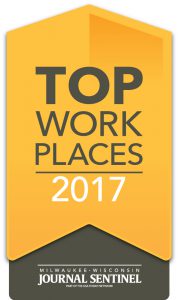 g our collective expertise to work for healthcare product manufacturers, distributors, retailers, and others in the industry. We're a 2017 Top Workplace award winner!
At your service: a team of more than 50 professionals
At HRG, short-term relationships with clients are the exception rather than the rule. It's because our clients are more than accounts that we manage; they are relationships that we treasure and nurture. We are proud of our very low rate of employee turnover, because it means you can count on getting knowledgeable and reliable help to solve your business challenges whether you work with us for six months or 16 years.
Caring about our community
We are dedicated to helping those in our community, and we have multiple fundraising activities throughout the year that benefit a variety of local charities. In addition, we are members of the Pewaukee Chamber of Commerce, where we seek opportunities to work with and/or support other local businesses.