At HRG, leadership is a team sport
Far from being a stereotypical group of silent partners who emerge once each year for a Board of Directors meeting, HRG's owners are unique in their level of passion for the business and hands-on, day-to-day participation in the management and everyday activities of the company. For example, most vice presidents probably don't take a break from a high-level strategy session in order to play a round in the company bag-toss league. And the presidents of most companies aren't known to spend a morning reviewing a million-dollar contract followed by a turn loading the dishwasher in the company kitchen! Our owners, while fulfilling active leadership roles within the company, ultimately remain focused on bringing continued value to our partners and clients.
With more than 188 combined years' experience with HRG, and an average of 23.5 years of service per owner, this team not only understands HRG's business, but also has witnessed firsthand the evolution of the industry: the changing demands of the consumer healthcare shopper; the impact of the growth of technology; the consolidation of wholesalers, retailers, technology providers, and manufacturers; and the emerging effects of the changing consumer healthcare landscape. Whether you are a past, present, or prospective client or considering joining the Hamacher team, our leadership is here to serve you.
Member: Women's Business Enterprise Council
Hamacher Resource Group is proud to be certified by the Women's Business Enterprise National Council (WBENC). This honor is bestowed on privately-owned businesses that are at least 51% owned and controlled by one or more women.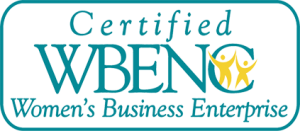 WBENC certification offered through the Center for Women and Enterprise is the nation's leading independent certification of women-owned businesses. Over 11,000 businesses are certified nationwide, and over 1,000 corporate supplier diversity and procurement professionals recognize the WBENC certification.
Contact us for more information about Hamacher Resource Group, or how working with a WBENC Certified business can benefit you.