It starts with mutual respect
Our company culture encourages and cultivates an environment of mutual respect, a strong work ethic, genuine passion for the business, and a desire to have fun. We provide opportunities for cross-team collaboration and encourage continued professional and leadership development. And we understand that all work and no play makes for a dull workday. That's why we provide plenty of social activities, including holiday parties, an annual summer picnic, volunteer opportunities, and a corporate wellness program.
To excel as a team and as individuals, we encourage transparency and open communication. Our monthly all-company meetings give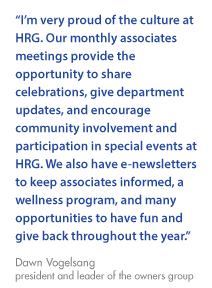 everyone an opportunity to hear departmental news and financial updates, and to applaud professional achievements as well as personal milestones. The meetings begin with a full accounting of the company's financial performance in the previous month and closes with acknowledging personal celebrations and achievements such as a new baby on the way, or completion of a professional development course.
A place for everyone
Every generation and level of experience is represented at HRG. You'll find departmental teams spanning three generations – Baby Boomers, Generation X, and Millennials. Everyone is valued for the strengths they bring to the team, and everyone benefits from the close collaboration between seasoned leaders and up-and-coming professionals.
We're always interested in growing our network of potential new team members. Like what you see here? Visit our careers page to join our team.