From the desk of Julie Massey, visual assets manager, for the Focus on Fixtures blog series
Many of our fixture coordination clients are in need of a solution that goes beyond the practical processes of providing stores, brands, or fixture companies with the space planning and planograms necessary to produce, ship, and install a new configuration. They often also need instruction and/or training materials to ensure the installation of a new fixture set up goes as smoothly and efficiently as possible.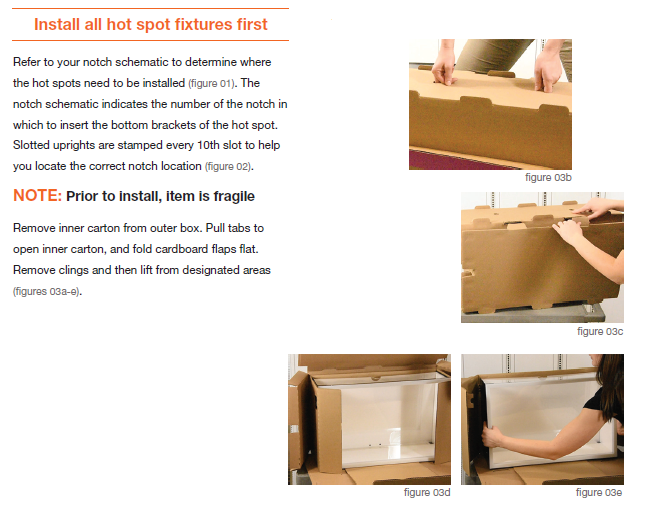 We've helped clients with various types of materials to assist store associates interpret a planogram and more easily set or reset a department. We produced both videos and an instruction manual for a mass retailer customer who was redoing their entire beauty department and needed to provide guidance for store personnel to help them complete the update with minimal downtime and productivity losses.
The instruction manual was organized so that whoever was completing the installation had a user friendly, easy-to-follow guide that detailed each step of the process. We have our own internal policy of documenting the steps of every process carried out in each of our departments. Utilizing this skill set made it easy for us to flex those competencies for an external customer.
Photographs of the installation steps were taken so a visual was available to reference along with the written instructions. We also included action steps for putting up the new fixture walls from start to finish. For familiarity, the models in the photos were dressed in similar clothes as associates wear in the store.
Next came the videos which were filmed at our office. The videos were offered to the store personnel as an alternative way to understand the order and organization of the new fixtures as well as implementation techniques. Each one was 30-60 seconds and covered a section of the installation. We took into consideration the fact the installers may not have access to wi-fi and to keep file size down, we did not include sound or voice overs in the videos. Our models and director had to convey what was being done without vocalizing it, so we wrote one-sentence statements to overlay on the video to succinctly describe what was being portrayed.
We made sure to include the instruction manual in the "open me first" box so store associates would find it immediately. In addition to the manual, we also created one-sheet instructions for each fixture that were included in each component's shipping box. These mini-instructions included photos as well as written instructions, so even if the manual was misplaced or being used by another associate, it wouldn't slow down the overall process.
Our client understood their store associates would have a variety of learning styles and providing the manual, one-sheets, and videos would cover most of them. In my next post about instruction and training materials, I'll share solutions we've provided beauty brands and a wholesaler.