From the desk of Kelly Zygowski, junior category analyst, for the Focus on Fixtures blog series
We have a long history of creating HBW planograms featuring a data-driven assortment for independent pharmacies to help them serve their customers and increase profitability in their front ends. A few years back, this expertise was employed to help a new client read a fixture planogram for a beauty department reset. With the use of our space planning software, we were able to interpret the fixture specifications so we could build an accurate planogram. Our fixture planogram service has grown from there.
We can build anywhere from a one-foot to a twenty-foot fixture planogram and can accept planograms in any format for conversion using our space planning platform. We provide details in the planogram to help those implementing the fixtures, down to each shelf, fixture number, clips, graphics, and even the notches where the shelves are hung.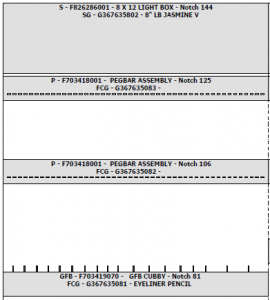 Our processes have been refined over the years to ensure each planogram is very user friendly so the associates in store can reset a brand or department in the least amount of time. Efficiencies gained save stores money and minimize lost sales due to limited downtime.
The planograms we've completed have been for various retail chains as well as for beauty brands themselves. When working with chains for a brand reset, we have produced between 30 and 40 planograms to meet each store's need. On the flip side, when working directly with the brand, we create planograms for each retailer they work with so they can ensure consistency of presentation across the outlets and channels their products span.
One important aspect of our project management process is the Add/Delete list we include as we work with stores or brands across multiple seasons. Because we have the infrastructure to store the fixture details from past seasons or resets, we can reduce expenses and prevent waste by letting stores know if they already have a piece they can reuse in the latest update – even if it was used for a different brand.
At the core of all of this is the solid relationships we're proud to have built. We've worked with a variety of companies that have trusted us with this complex and sometimes complicated process. It's been exciting to expand the application of our skills and abilities to a different aspect of the retail industry.