By Nelson Rodriguez, merchandising analyst, for the Tradition of Giving blog series
While more than a year has passed since hurricanes Irma and Maria struck terror in my home island of Puerto Rico, the clean-up efforts are still underway. In January of 2018, I and five of my co-workers (plus two spouses), including our company president, traveled to Puerto Rico to participate in the relief efforts. This was made possible by funds raised by me and my HRG colleagues along with our family and friends in some cases. We even had a few clients participate in the giving as well.
I still have family on the island, including my grandparents, so it was vital for me to go back to help. Most wouldn't expect such a warm response from their company and coworkers, but most people don't work for Hamacher Resource Group.
We go above and beyond here, and it stems from an innate desire to give back to others that seems to exist deep in the hearts of everyone who works at HRG.
Much of our time was spent in my hometown of Guayanilla in the food distribution center (which was converted from our local gym), organizing food, water, and supplies, and distributing them to people who either came to us or were stuck without transportation, sometimes in neighboring towns or up in the mountains.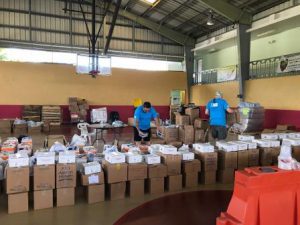 Here's why each of my participating coworkers decided to drop everything to help in in their own words:
Mary Hart: "It fit well with what I enjoy doing—which is traveling, experiencing other cultures, and helping others."
Dawn Vogelsang: "With all the stories about the damage hurricanes Irma and Maria had caused, I felt a monetary donation wasn't enough. While money was and is definitely still needed, I was concerned about it not getting where it needed to go, which prompted me to want help directly."
Courtney Teague-Carter: "I had promised myself that in 2018 I would take more chances, do things I had never done, and make it a point to see more of the world. This trip offered me the chance to do all that, in addition to serving others in need."
Brian Ellison: "It has become more and more important to me to pursue activities that help make the world a better place — which spurred my decision to travel to Puerto Rico."
Julie Bonnell: "I set a resolution last year to be a better version of myself, and part of that was focusing on social justice. It was important to me not just to give money, but to be hands on in the rebuilding of Puerto Rico."
Jose Vargas: "It felt like a once-in-a-lifetime opportunity. I'd never had the chance to be helpful on this large of a scale, and it was important to me to partake in it."
I think their words demonstrate that HRG's tradition of giving is never forced or trite. It comes from a place of goodness in each employee. This post is part of an ongoing blog series called Tradition of Giving – I hope you enjoy these posts and feel encouraged and inspired to participate in acts of giving in your own companies or families. You can learn more about our time spent in Puerto Rico by reading our Aid to Puerto Rico blog series.